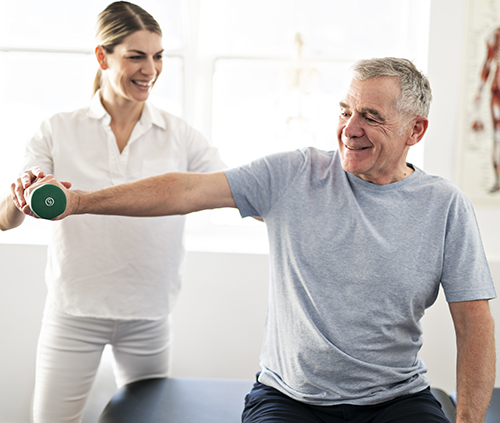 Rehabilitation Services at Jenkins County Medical Center
Jenkins County Medical Center has a new state-of-the-art Therapy Clinic where our therapy team can provide individualized care for our patients. Our department includes multiple rehabilitation services for both inpatients and outpatients. We have Physical, Occupational, Speech, or Pulmonary Rehabilitation available at our facility. Our team of therapists will create an open dialogue with patients and their families to ensure a proper medical care plan is created.
The shared goal between our Rehab team members is to provide therapies and exercises to allow our patients to regain their maximal level of function. Whether our patients need post-surgery Rehab or Speech Therapy for cognitive/communication/swallow disorders, our therapists will create a rehab care plan to help them achieve their goal of being able to perform their everyday activities independently.
What Type of Rehabilitation Services Do We Offer?
At Jenkins County Medical Center, we offer a number of different Rehabilitation services. The benefit of having access to multiple services is that the patient's designated therapists can create a cohesive rehab plan that allows for individualized therapy services.
Our facility offers Inpatient Physical Therapy, Occupational Therapy, Speech Therapy in the form of Swing Bed Rehab services, as well as Outpatient Rehabilitation. We are able to provide care for individuals who require various levels of care. So, whether acute, swing bed or outpatient therapy services are needed, our highly trained staff is able to provide our patients with quality care.
Physical Therapy
Each patient will have individualized care from our therapists and their team. Our therapists are extensively trained in aiding patients to regain mobility, decrease pain, and increase their quality of life post-surgery or after illness and injury.
At Jenkins County Medical Center, our patients can receive inpatient Physical Therapy while on our Swing Bed Rehab Program. Our facility is equipped to provide rehabilitation services to patients with various diagnoses, including stroke, post-surgical orthopedics, pain, and neurological disorders. Patients receiving rehabilitation services will be able to benefit from our outpatient rehabilitation facility after discharge.
Occupational Therapy
Our Occupational Therapy focuses on helping patients regain their independence and ability to achieve their daily activities. This can include bathing, dressing, and eating or providing helpful techniques for those recovering from a stroke or injury. These daily tasks are among many different areas that our team will focus on with the individual. Each care plan is developed to serve the needs of the individual patient.
Occupational Therapists and assistants help our adult patients in our hospital's Swing Bed program to recover from injury or illness. We also work closely with stroke and post-op patients who may need assistance returning to living independently. Our team will provide helpful information and equipment to our patients, ensuring they are able to feel comfortable after they are discharged from our facility.
Speech Therapy
At Jenkins County Medical Center, Speech Therapy is offered to inpatients who are recovering from different cognitive/communication/swallowing disorders. Our Speech-Language Pathologists will create a personalized plan of action to help our patients communicate efficiently and effectively and maximize their nutritional intake.
Our qualified Speech Therapist's goals include creating an environment for our patients to regain the ability to communicate and swallow. Whether the individual has suffered a stroke or is a post-op patient on Swing Bed, our therapists will tailor a rehab care plan that will best fit the needs of our patients.
Outpatient Therapy
At Jenkins County Medical Center, patients have access to our state-of-the-art Therapy Clinic for Outpatient Physical Therapy following surgery, injury, or illness to decrease pain and improve function. Often times after hospital discharge following surgery or extended illness, Outpatient Therapy is necessary to regain the prior level of function.
Our goal is to help restore function, strengthen, and improve fitness for each patient. Our therapists take pride in progressing with their patients and seeing them thrive in the community after receiving therapy and rehabilitation services.
We Help our Patients Gain Their Independence Back with Our Specialized Rehabilitation Services at Jenkins County Medical Center
Our therapy services focus on helping our patients regain their independence after an illness, injury, surgery, or challenges that come with aging. Our Specialty Therapists want to provide both exercises and information to help our patients achieve their recovery goals. Our top priority is providing care that gives our patients the guidance they need to be able to perform tasks independently and have an improved quality of life.
**Anette Head, Physical Therapist, is our Director of Rehabilitation Services**
Millen, Georgia, is located 50 miles south of Augusta, Georgia and 79 miles North West of Savannah.
12:00 p.m. – 8:00 p.m.
No more than two visitors permitted in room at one time.
No visitors younger than 13 years of age.
ON TRACK Behavioral Health Remains closed to visitors at this time.
Lobby and Cafeteria remain closed to the public.