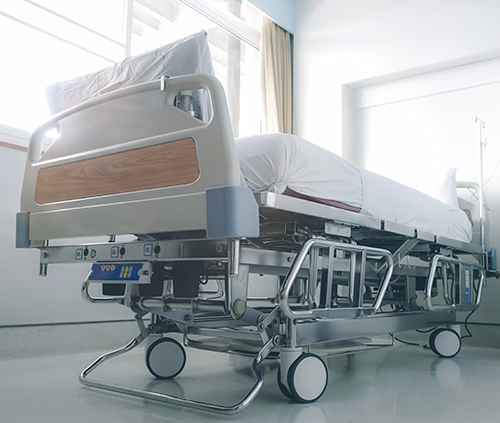 Swing Bed Program at Jenkins County Medical Center
At Jenkins County Medical Center, we offer swing bed services to patients who need post – acute care, but also may need additional medical services during their hospital stay. With our wide range of medical services and therapies, we are able to provide all levels of care necessary for our patients.
Our swing bed hospital program is available for all Medicare patients. Although a majority of our patients are from surrounding counties such as Bulloch, Emanuel, Screven, Jenkins, and Burke, our door is always open for those in need of our swing bed services.
Our goal is to provide our patients with a program that allows for inpatient post – acute care services that can be transitioned to a higher level of care if needed. This will allow our patients to get all levels of care they need in one location. Swing bed patients will remain at the Jenkins County Medical Center facility throughout their entire hospital stay, no matter what type of care they are receiving.
Benefits of Swing Beds
There are many benefits of staying at a hospital with a swing bed program. Our swing bed program allows us to provide different types of therapy, rehab, and skilled nursing care services all in one location. Being able to stay at one facility and being able to receive all forms of care is ideal for our patients.
The recovery process usually comes with many different appointments. Another benefit of our swing bed program is being in the hospital when and where your appointments are scheduled. This allows our patients to attend all of their follow up appointments.
The benefits of our swing bed hospital program will allow for our patient's extended care to be monitored and altered as needed.
Qualifications for Swing Bed Program
The Swing Bed program is a part of Medicare insurance. Our patients must have Medicare Part A insurance to qualify for this program. Medicare will cover swing bed hospital programs if you meet this certain criteria:
Currently on disability
A consecutive 3 day acute hospital stay prior to admission
Patient must be in stable medical condition
Patient requires daily skilled care
Patient needs rehabilitation services at least 5 days a week
Physician authorization is needed
Limitations on Length of Stay
Although the swing bed program is very helpful, it is not recommended for a long term care solution. A majority of our patients stay in our facility for 1 to 2 weeks. This time frame allows us to provide the care and services that our patients need to begin the rehabilitation process. This allows for a short term recovery period with the assistance of our skilled staff.
Should You Consider The Swing Bed Program at Jenkins County Medical Center?
Our physicians and staff members make your long term health our priority. We make sure to provide the services and care our patients need to return home to their loved ones. Our team will create a detailed approach, focused clinical services, daily evaluations, and discharge plans.
The therapy services our patients receive are designed to help them regain their strength and independence. Jenkins County Medical Center wants to give our patients the proper tools they need to recover from illness or injury.
Locations
The Swing Bed program is an in-patient service offered at Jenkins County Medical Center in Millen, Georgia. However, we do welcome patients from any other areas to our facility. Whether you are in Millen, Hepzibah, Statesboro, Waynesboro, Portal, Twin City, Sylvania, Midville, or Athens, or anywhere in between, we can provide you with the quality care through our swing bed hospital program.
Frequently Asked Questions

What is a Swing Bed?
A swing-bed is a service that rural hospitals and Critical Access Hospitals (CAHs) with a Medicare provider agreement provide that allows a patient to transition from acute care to Skilled Nursing Facility (SNF) care without leaving the hospital. This allows a patient to continue receiving services in the hospital even though acute care is no longer required.
What are the Benefits of Swing Bed Care?
A swing bed program allows less disruption of care and it gives patients additional time to recover from a surgery, illness or injury. In our swing bed program patients will have easy access to high-quality nursing care and rehabilitative services.
Who Qualifies for the Swing Bed Program?
All swing bed patients must have Medicare Part A insurance with skilled days. In addition to the correct coverage, you must able to meet specific criteria, such as:
Patient must be in stable medical condition
Recent hospitalization, surgery or illness
Require daily skilled services on an inpatient basis ( services that cannot be provided in a lesser care setting.
Patient needs rehabilitation services at least five days a week
Physician referral/authorization is required
What Services are Included?
Swing bed patients will be evaluated for any of our skilled nursing care services as indicated by their referring physician or as deemed needed:
Physical therapy
Occupational therapy
IV medication therapy
Monitoring of vital signs
Wound Care
Speech Therapy
What is the Goal for Swing Bed Participants?
The goal of the swing-bed program is to get the patient back to their pre-illness baseline in order to live as independently as possible. During the patient's stay, they will have quality care and personalized education to help support them after discharge. The medical team wants the participants to understand how they can prevent readmission to the hospital as well. Our overall goal for our patients is to be able to have them return to their homes in better health, which in- turn improves their quality of life. Our mission is to help you become as independent as possible by providing the appropriate and necessary treatments, therapies, and support, as well as to provide a continuum of care to enhance the outcome of your stay. The ultimate goal of swing bed skilled care is rehabilitation. Our care team will be focused on easing you back into your day-to-day activities. Visitors of family and friends, hobbies and other comforts of home are encouraged.
How Long is this Program?
Swing Beds are not recommended for long-term care solutions. On average, our patients will stay in our facility for 1-3 weeks. Each patient's needs are different, so an individualized care plan is created. If a long-term care solution is warranted, our staff and case management team are able to help make arrangements for that as well.
Do I Have to Live in Millen for this Swing Bed Service?
No, you do not. We can accept swing bed patients from anywhere as long as they meet the criteria. Even if you or a loved one has a procedure performed elsewhere, you can always request to have your rehabilitation done at Jenkins County Medical Center's Hospital's Swing Bed Unit. Have your care team contact your primary care physician to request our Swing Bed Unit or just call the hospital at (478) 982-4221 Ext 249.
Millen, Georgia, is located 50 miles south of Augusta, Georgia and 79 miles North West of Savannah.
12:00 p.m. – 8:00 p.m.
No more than two visitors permitted in room at one time.
No visitors younger than 13 years of age.
ON TRACK Behavioral Health Remains closed to visitors at this time.
Lobby and Cafeteria remain closed to the public.