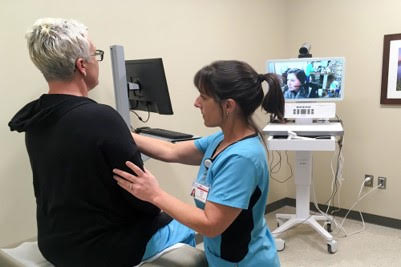 Millen, GA | Starting in January 2022 Jenkins County Medical Center (JCMC) located in Millen, Georgia will offer emergency telemedicine services for its patients. In partnership with AU Medical Center, Jenkins County Medical Center has been awarded funding from the FCC Covid-19 Telehealth program.
Antoine Poythress, CEO of JCMC announced: "Our goal is to offer top notch health care in our region and this funding will allow us to bring additional medical expertise to treat our patients at Jenkins County Medical Center. In addition to improving access, the telemedicine services will help our ED staff to better stabilize our patients and streamline the transfer process for the more critical patients (if necessary)."
This program will give the JCMC ED staff a telemedicine interface to connect with the AU Medical staff to evaluate patients in real-time. The equipment will allow for EKG readings, vital signs, patient charts and biometric data to be shared.  In emergency situations seconds count and outcomes can worsen if patients have to travel especially with time sensitive critical conditions like strokes, heart attacks, trauma and complications during childbirth.
Dr. Kyle Gay, Chief of Medical Staff| ER Director at JCMC stated: "Having access to the AU Medical Center network of specialty providers, such as obstetrics/gynecology, pediatrics, cardiology or neurology is key in helping our patients have the best outcome possible."
The FCC COVID-19 Telehealth program is designed to help rural hospitals with equipment and staff cost of telehealth medicine. The program will reimburse healthcare providers for certain expenses tied to expanding connected health platforms during the ongoing COVID-19 pandemic, and to help underserved populations access care through technology.